Suffering and literature in extreme oppression Numilog editions, Calliope Collection, 266 paper pages, downloadable version available.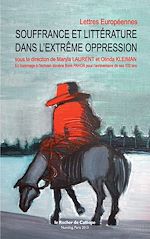 Launching May 4 th 2013. Article in Le Monde des livres 2013.
To celebrate Boris Pahor's centenary and in tribute to this great Slovene writer who comes in Northern France to celebrate his hundredth birthday, the Hazebrouck Bouquinales welcome on May 4 th 2013 in the presence of the author, the launching of Suffering and Literature in extreme oppression.
Besides Le berceau du monde (the cradle of the world, short story), a testimonial account of the survivor of the death camps (Struthof, Dachau, Dora, Bergen-Belsen) who Boris Pahor was on May 1 st 1945, when the whims of History let him get off a train in Lille, eleven new chapters are proposed to the reader:
Maryla Laurent and Olinda Kleiman, teachers in Lille 3 University, have initiated for several years in the scope of the Laboratoire CECILLE (study centre in foreign civilization and literature), European study days on the literary thematic of suffering.
Benevenuto Cellini experienced extreme oppression in the Vatican Italy of the 16 th century. Countless Jewish families from Austria, Hungary, the whole of Europe have experienced it in the Nazis' death camps, Alexander Soljenitsyne in the gloomy Stalinian gulag while Mao imposed it to the Chinese authoress Can Xue…
From the 16 th century to the 21 st century, from Salazar's Portugal to post Ceausescu's Romania, as terrible as it is, pain nevertheless comes from the womb: it gives birth to numerous accounts which are as many masterpieces of European literature. In French and without never omitting an extract in the original language, the book Suffering and literature in extreme oppression, with a postscript by Françoise Polnecq, Vice President for Culture in the General Council of Northern France, is a vibrating homage given by Northern France , Lille 3 University and all the contributors she was able to federate as well as  the European Letters Association, to Boris Pahor and to all his suffering fellow brothers and sisters.